Storage Bins with Pick Opening
Stacking containers with pick opening are not just practical for storage, they're easy to clean and maintain, thanks to their ultra-low weight. Their robust design also means that it's easy to carry and transport multiple containers at once. In addition to storage for shelving and racking systems, these boxes can be fixed to walls and workbenches with louvered panels. If you're looking to increase the storage capacity of your warehouse or distribution centre, get in touch with ERG today. These popular bins and containers are ideal for the storage of smaller products. From small tools and components to nuts and bolts, these boxes provide the perfect home for just about anything. The characteristic feature of these picking and storage containers is the opening to the front, allowing you to view what is inside. What's more, this handy opening allows you to remove goods in an instant. The placement of this opening also means that boxes can be stacked on top of each other on shelving, to save space within your warehouse. They are also perfect for use with shelving, so much so they are often referred to as shelf bins. Storage containers massively increase the efficiency of order picking in your warehouse.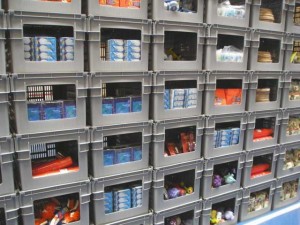 Advantages:
- They let you see exactly what's inside.
- They keep things more organized.
- They make things look more uniform.
- For food storage, you can see if something is contaminated.
- You can easily add more, if needed.