Electric Monorail System
Perfect for fast and challenging processes. Our Electric Monorail System transports your materials to be conveyed and delivers them to the desired location with virtually no noise. This is particularly advantageous for ground conditions where forklift trucks and driverless transport systems cannot be used. Attached overhead, the Electric Monorail System keeps the floor area free for your production and other processes. Unlike ground-based systems, the risk of falling parts that could damage vehicles or lines is eliminated. The space-saving and compact conveyor system can be adapted to every line layout. The Electric Monorail System can also easily be combined with other conveyor systems. Depending on the requirements, we develop hangers and equipment with bearings that are tailored to your needs.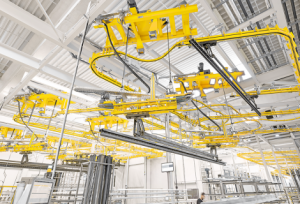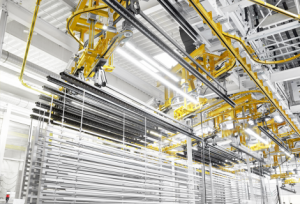 Benefits:
- Autonomous, intelligent transport.
- High-velocity transport.
- A configurable circuit.
- A modifiable system.
- Easy, reliable maintenance.
- Much easier to clean.
- Cost efficient system.