Stacker Cranes for Bins and Boxes
The Stacker crane is the device in charge for performing the location & extraction operations of the boxes in the racking, along with transporting and depositing them in the P&D station of the warehouse. Stacker cranes for bins and boxes, move in two ways: longitudinally, up& down the aisle guided on a rail, and vertically, when locating the boxes in the different levels and/or depths of the racking. With the mini-load crane and high-bay shelving completely covers rack automation for boxes, cartons and trays and present the ideal solution for maximum use of vertical storage while using very little floor space.At ERG we offer you the best quality of the stacker crane for your automated warehouse storage and retrieval facility. The whole system is controlled by a management software package which registers the location of all the materials in the warehouse and keeps a real time inventory.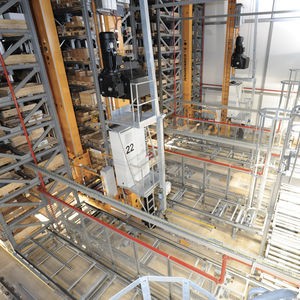 Advantages:
- Applies "product to operator" principle.
- Automation of the entry and exit operations of the products.
- Permanent inventory.
- Eliminating the errors arising from the manual management of the warehouse.
- Optimal use of available space.
- Maximum comfort and easy access to the stored boxes.